ICES IAITAM-Accredited Training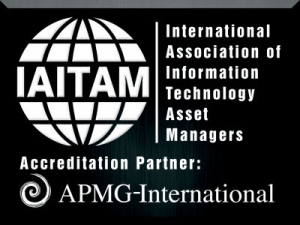 IT Asset Management ensures that the overall IT Asset Management Program is producing maximum value with minimal risk for the organization Best practices are to establish Key Process Areas (KPAs) from which to build and develop the program to achieve the goals of IT Asset Management and the organization. It coordinates the use of IT assets across the organization including meeting organizational, department and IT goals. IT Asset Managers participate in closing the gap between the business functions of the organization and the IT goals, generating compliance, cooperation and satisfaction.
The ICES IAITAM-Accredited Training Organization (IATO) provides cleared APMG-accredited instructors who are actively participating in supporting Intelligence Community partners providing software asset engineering support to IT Asset Managers. Our practitioner-trainers will enrich your organization's training with real-world expertise coupled with the Key Process Area-based courses developed by the internationally recognized experts at the International Association of IT Asset Managers.
We are pleased to offer the following courses:
Course Descriptions
Certified Software Asset Manager (CSAM) (View PDF)
Certified Mobile Asset Manager (CMAM) (View PDF)
Certified IT Asset Manager (CITAM) (View PDF)
Certification in IT Asset Disposal (CITAD) (View PDF)
Certified Asset Management Professional (CAMP) (View PDF)
Certified Hardware Asset Management (CHAMP) (View PDF)
SAM in the Federal Government – ICES Systems Engineers address Software Asset Management in the Federal Government to the International Association of IT Asset Managers Annual Conference and Exposition in San Diego.